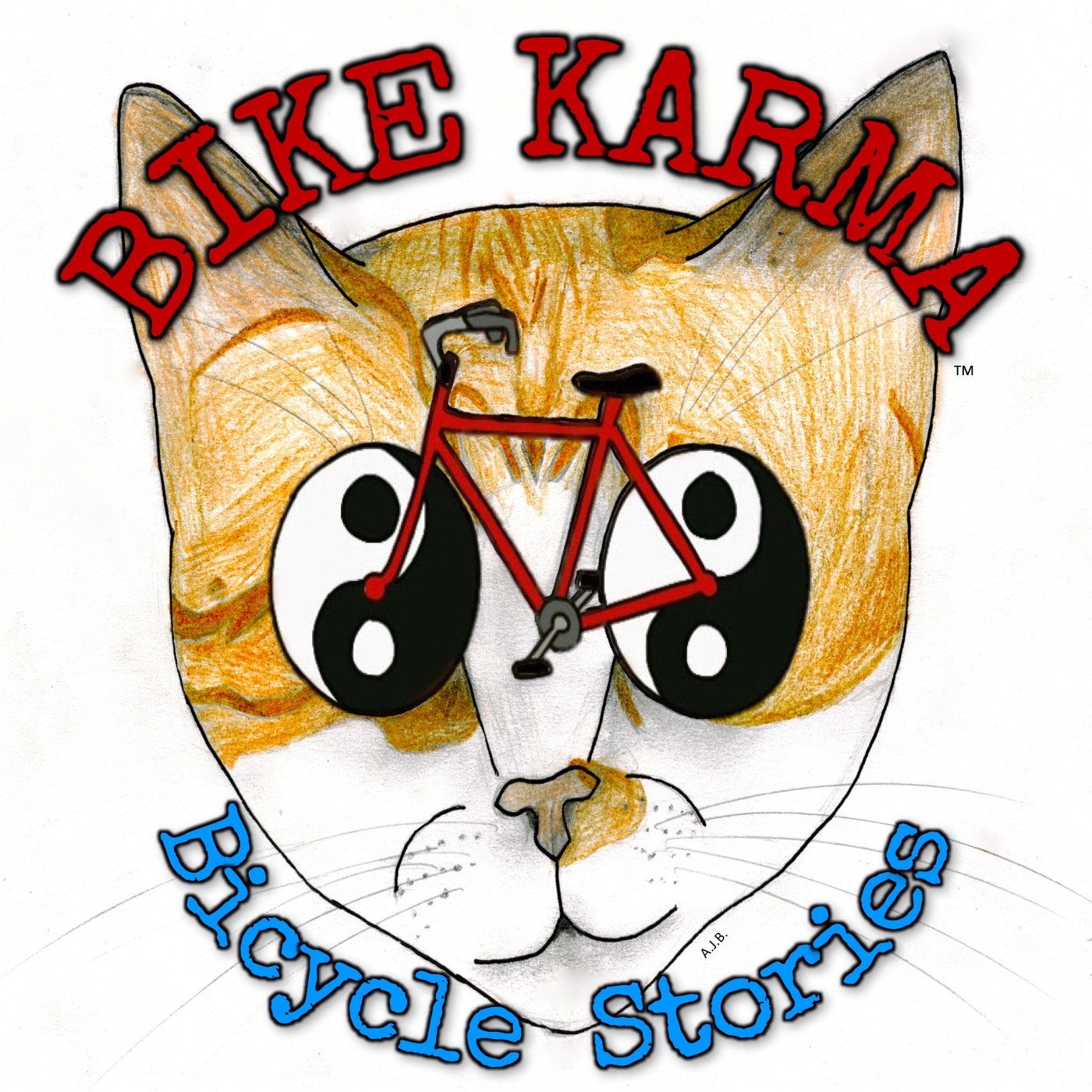 Bike Karma EP19: What is Bike Karma - 2 Years Old- Adam Got Hit- Book Recs- Slow Roll
Interviews and Segments-
-Intro 
1- What is "Bike Karma"? Where did the idea for the Podcast Start? What am I doing this for?
2- Cats and Bikes? LIZ ASKS WHY?!?!
3- Adam Got Hit By A Big Truck- Interview with Adam Bunger who sadly got hit by an uninsured motorist in a big truck. Hear his story and consider helping him with the bills at... ADAM GOT HIT BY A BIG TRUCK FUND - GO FUND ME
4- Thank to participants and listeners and a Sound Check
5- Quick Summer Reading Suggestions   1- Blazing Saddles by Matt Rendell, 2- Mountain Bike! by William Nealy, 3- (AUDIO or PRINT BOOK) Obsessive Compulsive Cycling Disorder by Dave Barter, 4- Bicyle Mechanics In Workshop and Competition by Steve Snowling and Ken Evans, and 5- Richards Bicycle Book by Richard Ballantine.
6- Let's go on a slow roll on my late 1940's Columbia Balloon Tire Cruiser Bike
7- Mention the Bicycle Builders Ball in Boston Sept 23rd, the Dudley Bike Swap, and Credits 
If you like any segment or episode PLEASE follow, like, share, or even better give a positive review on iTunes, Podbean, Instagram, Tumblr, etc... and share with any bicycle loving friends or people who don't like bicycles but who need to understand why you do.
To see what is mentioned in the podcast check out my...
Bike Karma Instagram Page
and/or 
Bike Karma Facebook Page
I'll put links and additional materials there.
The Mission of the Bike Karma Podcast is just to be a friendly point on the map for anyone who loves any type of bicycle to make connections with other bicycle enthusiasts from inside and outside of their own camps. From riding, to fixing, to collecting... from begineers to champions... from the garage workshop to the peleton... we've either covered it or are planning on it.... It is not meant to be a guidebook (you should think for yourself and safely ride within your abilities) just interesting stories. Thanks for coming along for the ride. 
THANKS VERY MUCH FOR LISTENING! 
Bike Karma, The Bicycle Karma Project, The Bicycle Karma Cat are TM Tom Brown, All Rights for the TM and Content are reserved,
Theme Music with Permission by the Band Mobjack at Mobjack Music and written and performed by Keller Glass